Radiothon 2019: Be Different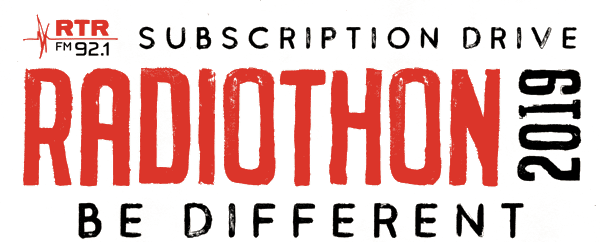 RTRFM WANTS YOU BE DIFFERENT THIS RADIOTHON
Radiothon is RTRFM's annual subscription drive running from Friday 16 to Sunday 25 August.  It's the time of year when our presenters, volunteers and staff call on you, our listeners, to put your money where your ears are and SUBSCRIBE and donate to keep community radio strong and vibrant.
The financial support you give us during Radiothon makes up 30% of our annual income and this support makes sure we can continue to make the independent radio which is an essential part of a vibrant local culture and diverse media landscape.
You'll hear all about it on the radio, and it's your chance to show your support, win prizes, and celebrate with us at the Early Bird Launch 6AM Friday 16 August and the Radiothon Party 7PM Saturday 17 August.  Subscribers get in free!
RTRFM is funded by local people who believe it's important to hear different music, local stories, and diverse voices on their airwaves.  By subscribing, you'll be:
Showing you care about local music, local artists, and local voices.
Supporting the cultural fabric of our city and amplifying different sounds and ideas.
Connecting to local people telling local stories in your community.
By subscribing during Radiothon 2019 you can win great prizes including golden tickets giving you a year of free entry to music and arts events, all the albums featured on RTRFM in the last year, luxurious holiday accommodation, fun courses, exclusive experiences, delicious food and booze prizes and more.
Click on the following sub-headings to find out more about Radiothon 2019, including how you can volunteer and what you could win by subscribing!
+Subscription Types
+Become A Radiothon Volunteer
+Major Prizes
+Instant Prizes
+Pay Your Pledge